ALTA High-Flow Drop In Panel Filter
ALTA was the first to offer you a replacement high-flow drop in filter for your R56 and JCW. This environmentally responsible filter is completely reusable and will last you the life of your car!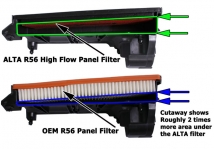 High Flow Drop In
Our high-flowing, super cleaning foam media allows us to make the filter thinner while keeping the maximum amount of volume to hold dirt. This simple change allows for more air to be drawn across the entire filter. This also allows for 2 times the volume in the OEM intake box, and allows for the intake to breathe that much better!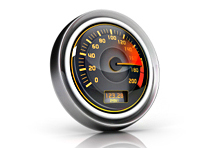 Proven Horsepower
The ALTA Panel Filter makes a few extra horsepower, but where it really shines is when it gets dirty. OEM and K&N filters get clogged the more dirt gets in them and lose horsepower. The ALTA Foam media keeps flowing even after its full of dirt providing you with maximum horsepower between filter servicing.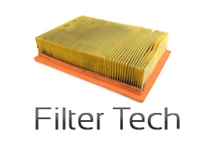 Filter Tech
Read Jeff's blog where he explains the design and function of the ALTA R56 MINI panel filter and provides a dyno chart as evidence.
» Learn More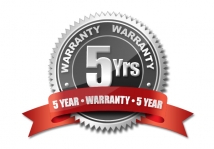 5 Year Warranty
ALTA Performance warrants to the original purchaser, all ALTA products to be free from defects in material and workmanship within a sixty (60) months period from the date of purchase. *Some exclusions apply
» Read Full Warranty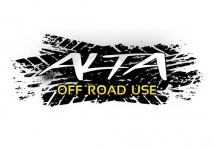 Off Road Use Only
This product is legal in California only for racing vehicles which may never be used upon a highway. Check your local and federal laws prior to installation.
» Learn More